BiCon 2015 is at the University of Nottingham's University Park Campus.
Accommodation and evening entertainments are in Lenton and Wortley Halls. Daytime sessions are in the Engineering and Science Learning Centre.
Unless otherwise stated, all stairs are standard height and doorways average width.
Our accommodation: Lenton and Wortley Halls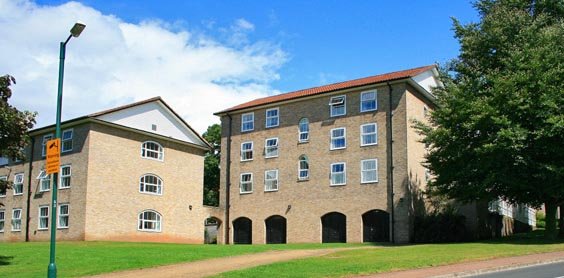 The university provides full building access plans for Lenton and Wortley Halls.
Parking
There's a car park across the road from the halls, nearest to the en suite rooms. BiCon attendees can get a permit to park there.
The road wasn't busy when we were there, but we haven't seen it at all times of day. There's a humped zebra crossing to get from the car park to the halls. Bicycle parking facilities are available.
Layout
The Halls are grouped around green central space.
There are steps or ramps to get around the outside area with hard surface pathways.
The dining hall, bar and other social space is at the opposite end of the halls from the car park.
Safety
Security is onsite at all times and halls staff are onsite in the daytime.
First aiders are available onsite.
There are smoke and heat detectors throughout the halls. Fire alarms are on a "double knock" system – if smoke or heat is detected a staff member will check there is a fire before setting off evacuation alarms.
Alarms are quite sensitive and may be set off by things like aerosols and talc.
Halls staff will work with anyone who needs a Personal Emergency Exit Plan (PEEP) – they will need details of individual access needs as soon as possible.
Visual fire alerters are available only in specific en suite rooms – Halls staff need to know in advance to set this up in relevant rooms.
Emergency information is displayed in all rooms.
Signage is largely black on white.
All rooms
Rooms have compact fluorescent overhead lighting and a bedside lamp with a low-energy bulb.
Each room has a bed, desk, chair and a small fridge.
There are recycling bins and general waste bins throughout the Halls.
There will be tea and coffee making facilities in each room for us. They weren't there when we visited because the rooms were set up for students rather than conference attendees.
There is WiFi in all rooms.
All rooms are designated single occupancy, with single beds to comply with licensing regulations. Staff won't check to see if anyone is sharing a bed!
For families
Babes-in-arms and small children may share with a parent or carer. Older children must have their own booked room.
'Paired shared bathroom' rooms may be particularly suitable for families, as a child can be in a room next to a parent or carer with a shared bathroom. There are no rooms specifically designed for family occupancy.
No cots or child beds are provided.
Types of rooms
En suite rooms
There are 56 en suite rooms, meaning the room has its own bathroom.
These have a toilet, basin and walk-in, level access shower.
There's a kitchenette shared by up to 20 rooms, with a microwave, fridge and ironing board. They are not fully wheelchair-accessible but would probably be suitable for most ambulant people with reduced mobility.
There is a small domestic-sized lift.
Paired shared bathroom (PSB) rooms
There are 92 paired shared bathroom (PSB) rooms in 4 blocks, meaning two bedrooms next to each other sharing a semi-private bathroom.
The bathroom has a shower cubicle, toilet and basin.
There is a shallow step up into the shower cubicle.
These rooms have a larger-than-average single bed.
There is a kitchenette shared by 20 rooms with a microwave, kettle and sink. It is up a flight of shallow stairs with no handrails.
There are six shallow stairs from the front door to the 'ground floor' rooms.
There are shallow stairs between floors of bedrooms in 2 sets of 8, with a handrail on one side.
Standard rooms
There are 98 standard rooms accessed by a sloped path or 9+6 steps with handrails on both sides. There is a small step into the building.
There are 15 steps between floors with handrails on both sides.
Bathrooms are shared between 6 rooms with 2 toilets and 2 shower cubicles. There is a step up into each cubicle.
Each room has its own sink and a small fridge.
The shared kitchenette is on the top floor and is similar to the ones in the paired shared bathroom (PSB) rooms.
On-site hotel
Fully wheelchair-accessible rooms are only available in the on-site hotel.
This is some distance from Lenton and Wortley Halls and the daytime space, the Engineering and Science Learning Centre (ESLC), on the opposite side of the ESLC and our Halls.
There is one internally-accessible room in the annex to Cripps Hall – between our Halls and the ESLC – but the emergency exit route is onto bumpy ground.
Social area
The social area is at the opposite end of the Halls from the car-park.
There is an outside social area with picnic tables and large patio umbrellas.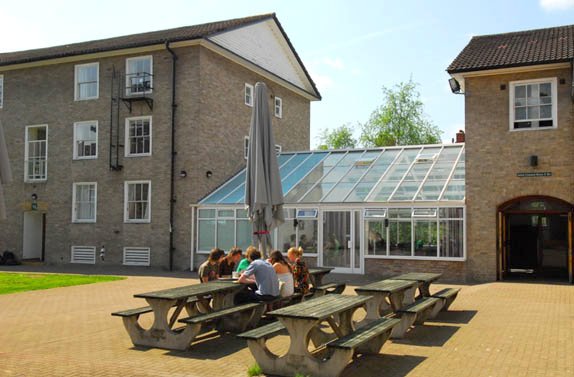 Dining and kitchen
Inside, there is a large, traditional-style dining hall with level access.
When we visited, it was furnished with benches but they plan to set up island-style seating for us.
We will also use this space for the BiCon ball.
Meals
Breakfast and dinner will be served in the dining hall – lunch will be at the ESLC.
The kitchen is used to catering for vegetarian, vegan and gluten-free diets. They will do their best to meet other dietary requirements if given details in advance. They use only free-range eggs and halal chicken and lamb.
They plan to serve us roughly two-thirds vegetarian food to allow for meat-eaters to choose the veggie option if they wish.
Bar
The bar area is next to the dining hall. It is furnished with armchairs. We can choose to make it child-free if we wish.
We have asked for a large supply of soft drink and crisps as well as alcohol.
The bar leads on to a conservatory which we can use for a quieter social space.
There is a small humped ramp leading out of the conservatory back to the outside social area.
Library – informal social space
Upstairs from the dining hall by way of 2 sets of 10 uncarpeted steps with a handrail on one side, there is a traditional-style library and a mirroring informal social and games space on the other side of the building.
There is no lift up to these areas, so we will not use them for scheduled sessions, but they will be available as informal social space.
Our daytime space: Engineering and Science Learning Centre (ESLC)
The university also provides full building access plans for the Engineering and Science Learning Centre
This is where we will have our daytime sessions, including lunch. It is some distance from Lenton and Wortley Halls.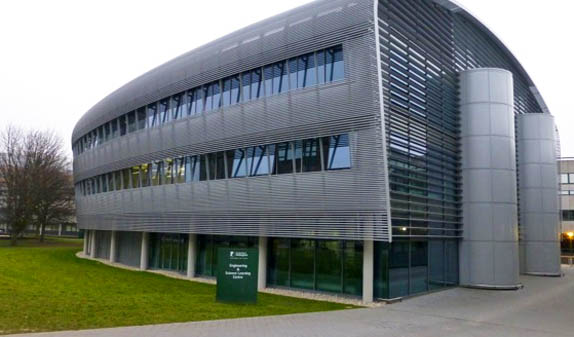 There is a drop-off area and blue-badge parking.
Moving between the halls and the ESLC
The paths for walking and wheeling are reasonable well-lit, mostly at around waist-height. There is relatively little lighting on the rest of the grounds.
The ground rises and falls  – in some places it is moderately steep, though it's more downhill going from the halls to the ESLC. There is a slightly longer path, which is smoother.
From the halls to the ESLC there is a shallow set of 7 steps or a ramp and later 2 sets of 4 steps or a ramp.
Inside the ESLC
The ESLC is modern, highly accessible building.
We will de-gender some of the toilets.
There is a large lift with wide doors and glass walls, and several staircases.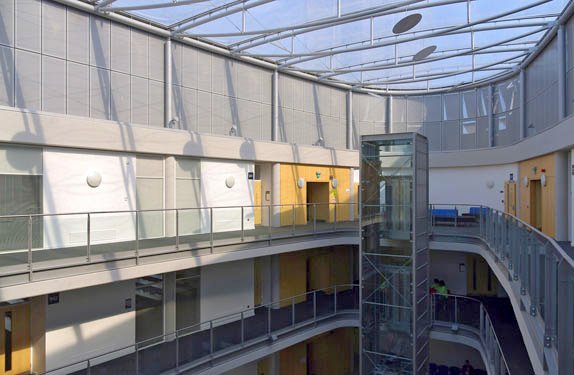 There are comfortable seating areas outside meeting rooms.
One smaller room will be a designated quiet space.
There are a couple of informal seating areas with armchairs on the upper levels and some exhibition space.
The large plenary room is on the first floor, with capacity for 157, a microphone and AV equipment. The other meeting rooms vary in size. They all have a large window area with blinds and a glass panel in the doors with a window above. The seating can be rearranged.
We may have access to the graduate centre room which has a sink and armchairs as well as standard seating.
A coffee bar will be open for us on the ground floor, serving fair-trade tea and coffee, and a variety of soft drinks and snacks.
Need to know more?
For further information about access at BiCon, please email Access Co-ordinator Ludy, 2015access@deleted.