BiCon 2015 is at the University of Nottingham's University Park Campus – an award-winning campus with many green areas and a boating lake.
We're using:
The Engineering and Science Learning Centre for daytime sessions
Lenton and Wortley Halls for accommodation and evening entertainments.
University Park Campus map – PDF document (876 KB) – the ESLC is building 54, in the middle of the buildings to the right, while Lenton & Wortley Hall is named at the top edge of the campus.
Our daytime space: Engineering and Science Learning Centre (ESLC)
The ESLC is modern, highly accessible building.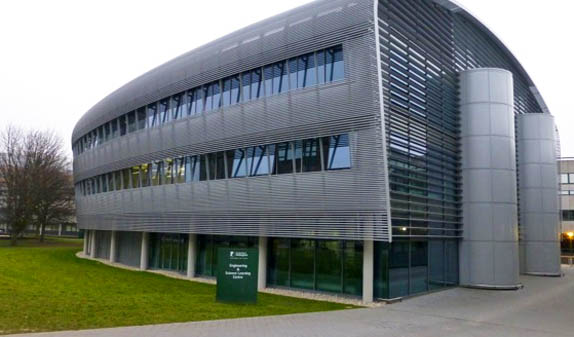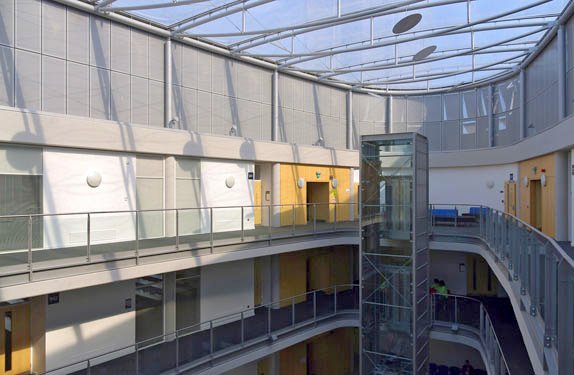 Its facilities include:
A drop-off area and blue-badge parking right outside.
A large lift servicing all floors.
Comfortable seating outside meeting rooms.
Informal seating with armchairs on the upper levels and exhibition space.
Large plenary room is on the first floor, with a microphone and AV equipment.
Other well-lit meeting rooms of varying size.
Coffee bar on the ground floor, serving tea, coffee, soft drinks and snacks.
Our accommodation: Lenton and Wortley Halls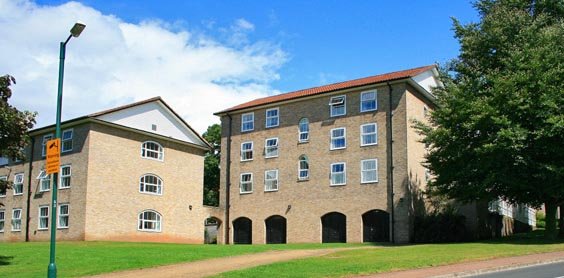 Parking
Go to the main University of Nottingham entrance on Beeston Lane off the A6464. This will take you to a gate where a security guard can give you directions to Lenton and Wortley Hall or the Engineering and Science Learning Centre (ESLC) for registration. Where to register.
You can get a free permit to park for the duration of BiCon – ask at the desk when you register.
You can use the parking nearest either the halls or ESLC while you register. After you've registered and taken bags to your room if needed, please move your car to the main car park at the centre of the campus, near Hugh Stewart Hall – see BiCon venue map – PDF, 382KB – unless you need to keep your car closer for mobility reasons.
Layout
The Halls are grouped around green central space.
All bedrooms
All bedrooms have:
wi-fi
single bed, bedside lamp, desk and chair
bedding and towels
small fridge
kettle, mugs, tea and coffee.
For families
Babes-in-arms and small children may share with a parent or carer. Older children must have their own booked room.
Paired shared bathroom (PSB) rooms may be particularly suitable for families, as a child can be in the next room with a shared bathroom.
You'll need to bring any child bed or cot with you, as the venue cannot supply these.
Types of rooms
Rooms will be allocated first in, first served, so there's a good reason to register early.
En suite rooms
Are now only for those with access or family needs.
Have their own bathrooms with a toilet, basin and level-access shower.
Shared micro-kitchens are up a short flight of stairs or via the lift, and have a sink, microwave, fridge and ironing board.
Paired shared bathroom (PSB) rooms
Sets of two bedrooms next to each other that share a bathroom with a shower cubicle, toilet and basin. They also have a larger-than-average single bed.
Shared micro-kitchens are up a short flight of stairs, and have a microwave, kettle and sink.
Standard rooms
Each room has its own sink and a small fridge.
Here, a bathroom is shared between 6 rooms. It's got 2 toilets and 2 shower cubicles.
The micro-kitchen is on the top floor and is similar to the ones in the paired shared bathroom (PSB) rooms.
None of the micro-kitchens contain cutlery or plates.
Social area
The outside social area has picnic tables and large patio umbrellas.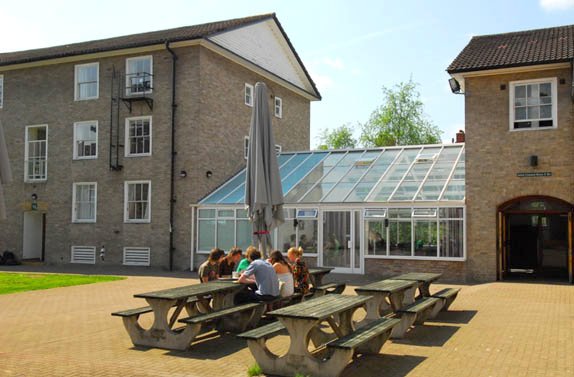 Dining and kitchen
Inside, there is a large, traditional-style dining hall.
We'll also use this space for the ball.
Meals
Breakfast and dinner will be served in the dining hall – lunch will be at the ESLC.
The kitchen is used to catering for vegetarian, vegan and gluten-free diets. They will do their best to meet other dietary requirements if given details in advance. They use only free-range eggs and halal chicken and lamb.
They will serve at least two-thirds vegetarian food to allow for meat-eaters to choose the veggie option if they wish.
Bar
We have asked for a large supply of soft drink and crisps as well as alcohol.
The bar leads on to a conservatory for a quieter social space.
Library – informal social space
Upstairs from the dining hall is a traditional-style library and a mirroring informal social space on the other side of the building.
There is no lift to this area, so we won't use it for scheduled sessions.