After a day of thought-provoking sessions and meeting loads of new people, evenings at BiCon are a chance to unwind. Here's what we've got planned.
Thursday
The BiCon Pub Quiz
Form a team of new friends or old and come to the bar where your quiz master will put you through your paces.
Brush up on your general knowledge, queer history and useless facts, competing with other teams in a battle of wits. There might even be prizes!
Between rounds, our resident BiCon DJ, DJ Avalon will play 80s classics, pop and indie.
Thursday night will also see spaces for ice breakers and crafts, and a quiet space.
Friday
Comedy with Ashlee Flux
In her first performance, Ashlee talked about her experiences as a sex worker and ranted about how politicians and the law tend to approach prostitution. Being able to see the funny side of life, it naturally included a few jokes.
She enjoyed the laughs so much she began to focus primarily on that and, tentatively, to call it "comedy".
Comedy with Jackie Hagan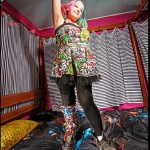 Award-winning comedian Jackie Hagan has recently finished nationally touring her poetic-comedy-cabaret-theatre show Some People Have Too Many Legs – an infectiously optimistic story of losing her leg. She'll be sharing some new-ish material.
Read more about Jackie Hagan in The Mirror.
Between sets DJ Mat will play everything from Frank Ocean to Frank Sinatra. From the lastest chart hits to good ol' time songs you'd forgotten, most will be catered for, even if you don't realise it 'til you hear it.
There'll also be rooms for games and crafts, and a quiet space.
Saturday
Saturday night sees the much anticipated BiCon Ball, with a Nottingham-inspired theme:

Featuring…
A Mysterious Magician doing actual magic
The Magic Forest treasure trail
Trees of gifts and blessings
A giant dressing-up box
Forest snacks, including plenty of cake.
If you like to wear a costume, here are a few ideas:
Animals: wolves and wild boar, woodpeckers and jaguars
Trees, plants and flowers from forests around the world
Magical beings: dryads, gnomes, faeries, goblins
Characters from forest stories: Robin Hood, Red Riding Hood, Hansel and Gretel, A Midsummer Night's Dream.
DJing at the Ball…
Lucy and Katy are Frabjous, playing magical, musical and danceable covers you didn't know you needed and songs you'd forgotten you loved.
More Ball DJs to be confirmed, and there'll be rooms for games and crafts, and a quiet space as always.
There's still time to get involved…
If you would like to volunteer to help with entertainments such as decorating the hall for the ball, making cake or anything else, we're still on the hunt for volunteers.